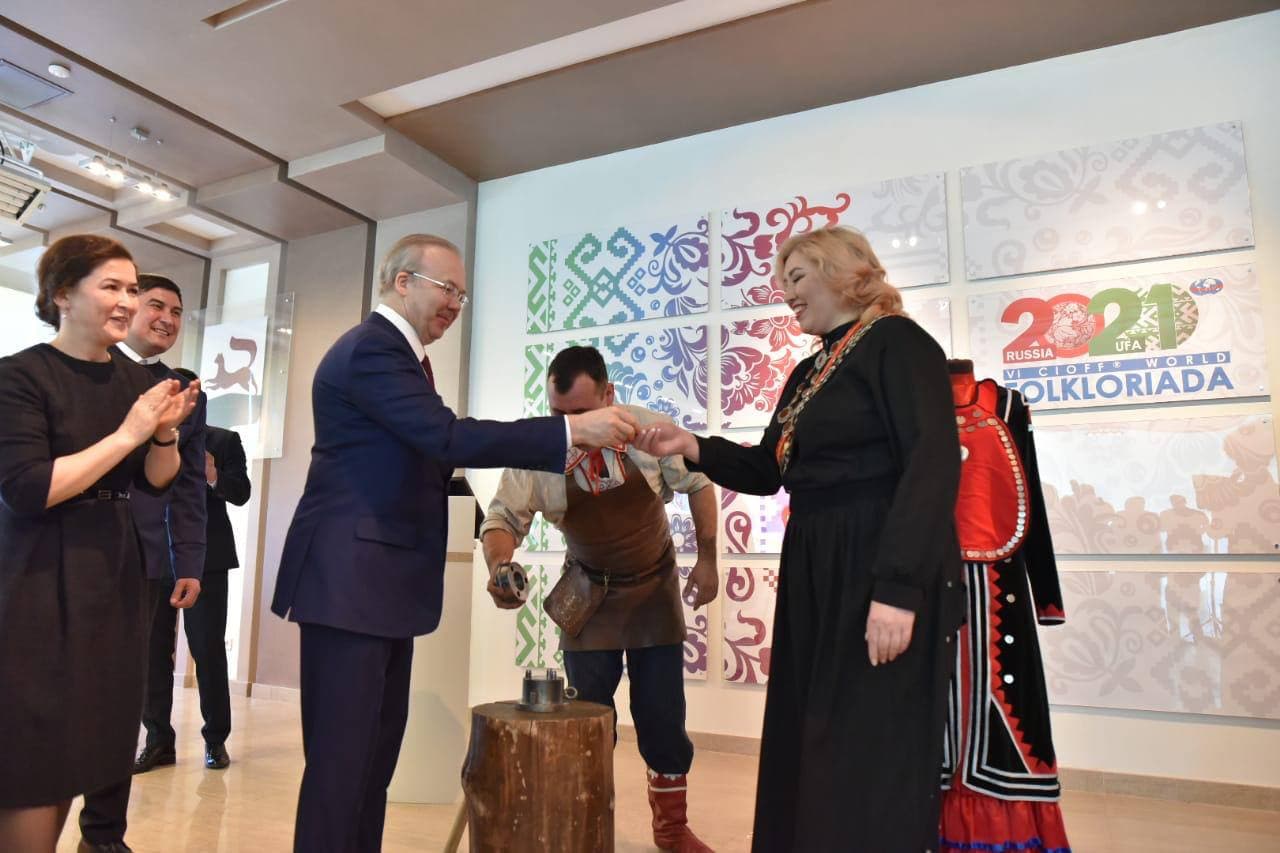 There're only 100 days till the most colorful, catching and longed event of the next summer – the grand festival of traditional cultures – the VI CIOFF® World Folkloriada. Today the 100-day Countdown Launch Ceremony to Folkloriada took place in Ufa. An important part of the event was the opening of the Folkloriada Office in Bashkortostan, which starts working according to a new concept.
The start to the countdown was given by the Prime-Minister of the Government of the Republic of Bashkortostan Andrey Nazarov.
"Now, on the Culture Worker's Day we are launching the 100-day countdown to the Folkloriada. It is one of the largest events of this year. We are aiming to charm our guests with our hospitality, so they can see that Bashkortostan is one of the most attractive regions of Russia", said Andrey Nazarov.
The Folkloriada Office opening evidenced another significant event – the presentation of the festival mascot – the coin with the logo of the VI CIOFF® World Folkloriada.
The ceremony was attended by the Minister of culture of the Republic of Bashkortostan and the head of the Folkloriada Office Amina Shafikova, the director general of the Republican Center of Folk Arts, the director executive of the Folkloriada Office and the member of the Folkloriada Committee Artur Alibakov. The deputy director of the V.D. Polenov's State Russian House of Folk Art, the executive secretary of CIOFF®-Russia and the member Folkloriada Committee Andrey Belyaev joined the event online and greeted the attendees, as well as the chairman of the Central and North European Sector Mrs. Susanne Kramer, who expressed her congratulations to the workers of culture and showed her appreciation for their contribution to the preservation and support of traditions and culture.
The countdown timer to the folkloriada has finally been launched. In 100 days the Republic will be hosting the longed-for event, which will find a glorious place in the Bashkortostan's history.
This grand festival will take place on July 3-10, 2021. Over 2000 performers from over 60 countries worldwide unite to show the people and guests of Bashkortostan their traditional music, dances, folk crafts, cuisine, attires and theatrical art. Festival program covers 35 municipalities of the region.
The grand stage of the festival is The Heart of Folkloriada at the "Toratau" Congress-Hall Amphitheatre will be open in Ufa on July 4-10. The stage will be hosting performances of folk groups from participant countries, Russian musicians and folk music stars from all over the world. This place will experience the largest circle of friendship, made by the representatives of more than 200 peoples. This event is to be recorded into the Guinness Book.
The VI CIOFF® World Folkloriada should have taken place in July-August, 2020, but was postponed to 2021 due to the pandemic of the COVID-19.